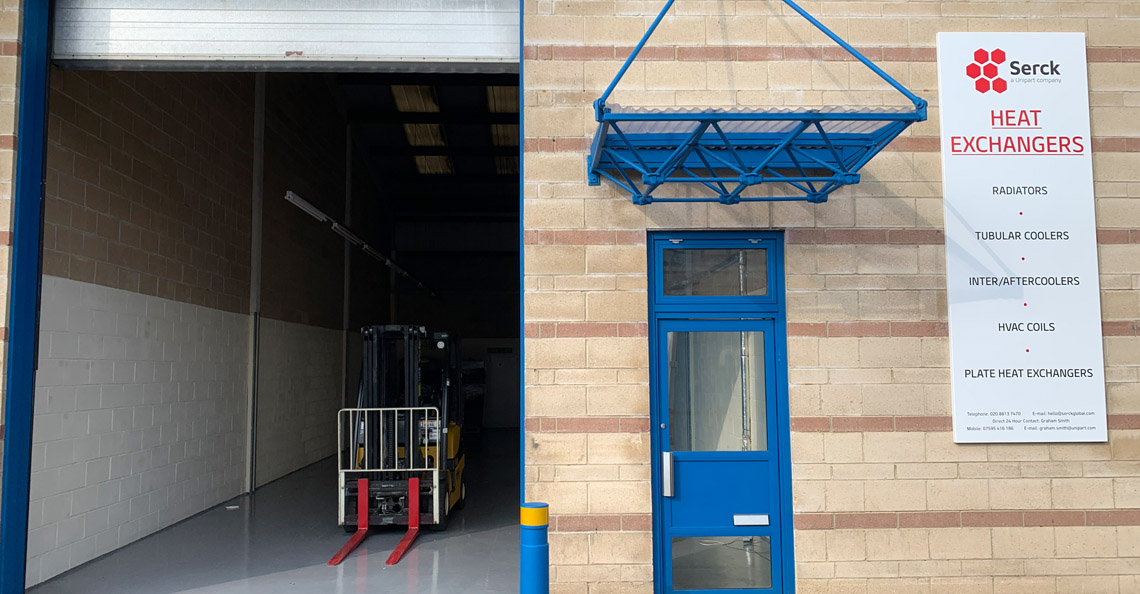 The signs are up and the doors are open as Serck expands its business into an additional industrial heat exchange workshop in the UK.
The company already regularly services a variety of heat exchange equipment on sites throughout the country. From power plants in Wales, to Breweries in Scotland, Recycling in Ireland to Steel plants in the Midlands, Hospitals in Newcastle to Rail Companies in Doncaster and all points in between. This site joins Serck's existing UK facilities in Gateshead and Paisley.
With a steady and growing client base in the southern parts of the UK, opening a new workshop will help Serck's services teams respond even more quickly and efficiently to customers across the country.
The site is adjacent to Serck's existing motorsport facility, where the team works on both their precision motorsport radiator manufacturing and service offering, as well as already working on a large volume of industrial work from nearby airport, utilities and facilities customers.
"Our business continues to grow at a pace, and if anything, the current focus on facilities and their heating and hot water needs means demand for our services has never been higher" said Serck Global MD Alex Neill. "With the upcoming winter season, this new site will allow us to respond even more quickly & cost effectively to our customers' heating needs, while maintaining the important high-quality, high-service manufacturing, repair and maintenance work on which we have built our 100+ year reputation."
If your heat exchanger or radiator needs replacing or refurbishing before the mercury drops, we're happy to provide a free no obligation assessment at your site or in our new workshop. We'd be happy to provide a condition report and proposal.
Or if you'd just like to learn more about how we can help with all of your heating and cooling requirements, from major plant infrastructure to a small installation, please contact us today.