A Serck eGuide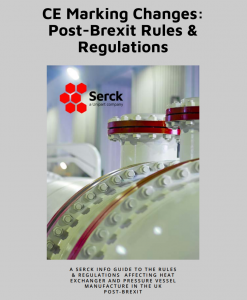 Beginning on the 1st January 2021 with the exit of the UK from the European Community, the rules on CE marking of Simple Pressure Vessels, Pressure Equipment and Machinery have changed. The UKCA conformance assessment marking came into effect for England, Scotland and Wales (but not Northern Ireland, which is to continue following the EU system).
With many complexities in store for UK manufacturers – and those who depend on them – who will now need to ensure they are able to conform to the UKCA regulations, as well as needing to continue to meet CE standards for equipment being exported, we tapped our internal experts to bring you this guide to help make sense of it all.
This guidance has been pulled together as a collation of available literature on the subject, including existing pressure directive regulations and publications outlining Brexit transition information published by both the UK and European governments.
With the wide range of information available – some of it incomplete or unconfirmed at the time of writing (Spring 2021) – we've done our best to provide a useful and concise overview as a starting point for you to consider as you plan future projects.
This guide is for information only. You should of course independently ensure any products or projects meet all requirements. But we do hope it gives you a helpful place to start!