Not knowing about your fouling and performance issues doesn't make them disappear.
Traditionally, it's been cost-prohibitive to add monitoring to heat exchange equipment. But the stakes are ever higher, and the landscape has changed.
Energy costs are rising
Materials costs are rising
Sensors are becoming more prevalent and cost-effective
Secure wireless mesh networks are more widely available and affordable
Machine-learning can quickly surface issues before they're normally detectable
A fouling rate of just 2% can cause up to 10% energy loss
America Fuel and Petrochem Association
The ROI calculation on heat exchanger monitoring has changed, and Serck is ready to guide you through it.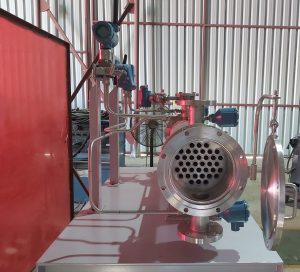 Our strategic supply agreement with one of the world's leading industrial sensor providers means we're able to ensure your heat transfer equipment is ready for the condition-based monitoring you need to remain competitive.
Industry 4.0 and the Industrial Internet of Things isn't just the future, it's the present. The benefits of condition-based monitoring and the use of data and machine learning are clear.
Approximately ONE TRILLION DOLLARS in company value is lost every year to suboptimal operating performance.
Refining and Petrochemical Benchmarks, API, Solomon, OSHA, IHS Markit and Company Reports
When it's time for you to introduce or expand your IIoT capabilities into your heat transfer equipment, start on the most efficient path, and trust the leading global manufacturer that's also working with a leading sensor equipment provider. Contact us today.